Voltago 3K Beast Electric Scooter
$1,799.00
The 3k Beast is our most powerful model available. This scooter isn't for just anyone! It can be very dangerous if ridden by an inexperienced rider. We only recommend this powerful electric scooter for adults with outstanding balance, vision, and throttle control as it's capable of doing wheelies! Improving upon our 2k beast we equipped the 3k beast with a 60v 20ah lithium battery and an even more powerful 3000watt motor! With a max speed of up to 38mph and a ride distance of up to 30 miles on a single charge.
Voltago 3K Beast Features
As with our 2k beast; the 3k Beast comes standard with a plethora of features that is unseen on other models at the same price point. Such as front and back hydraulic disc brakes, dual front shocks, rear turn signals, brake light, wood deck, mirrors and a horn. It also has a bolt down seat to help prevent the theft of the batteries. It's also equipped with telescopic handle bars that can be raised or lowered to meet the rider's height, rugged 4.5″ wide tires and are nearly 15″ tall wrapped around a solid steel rim.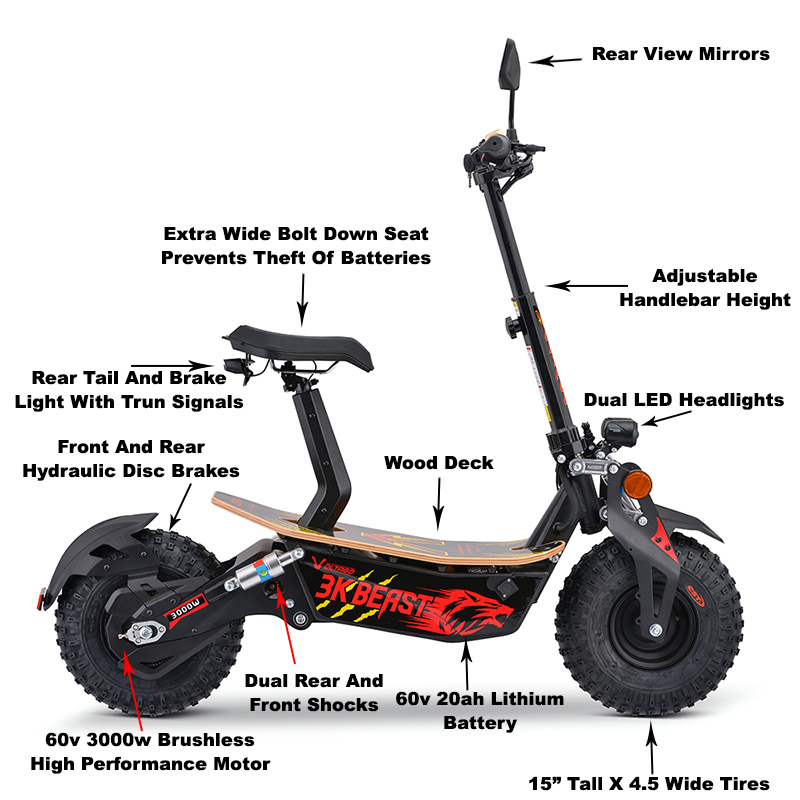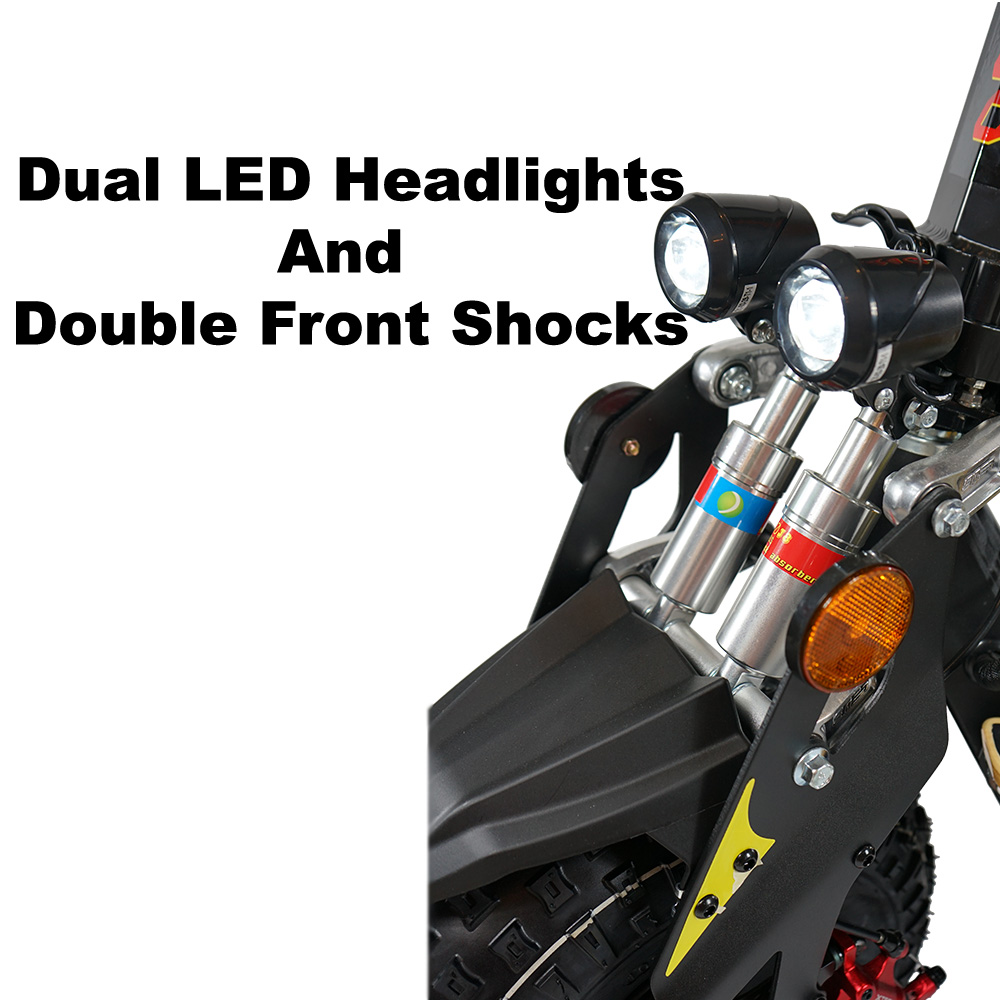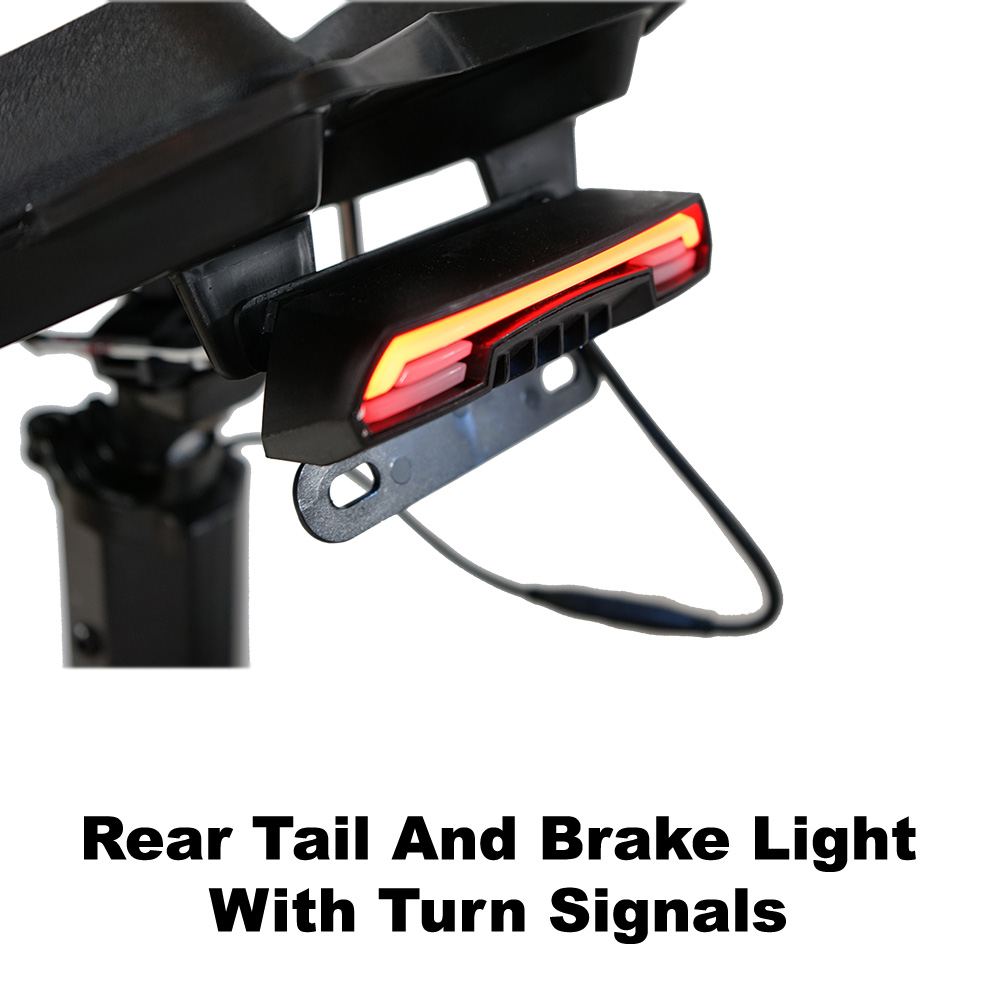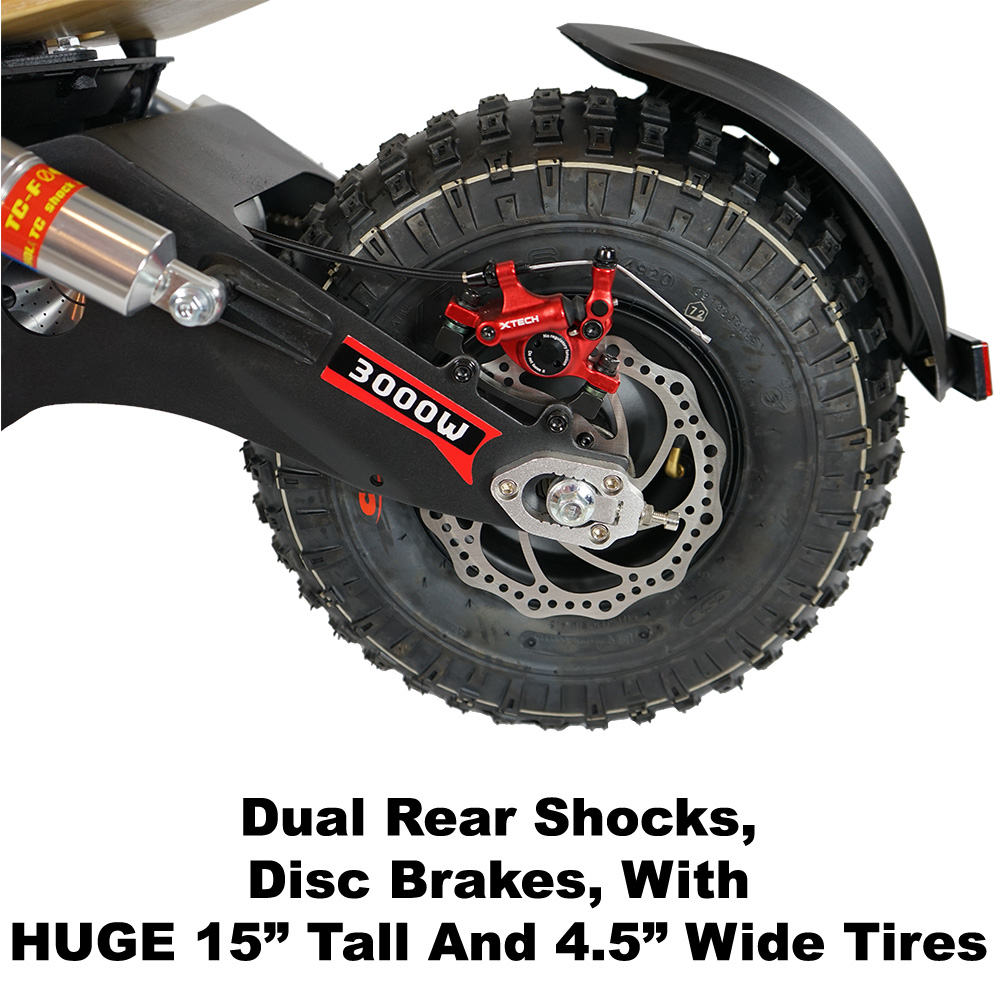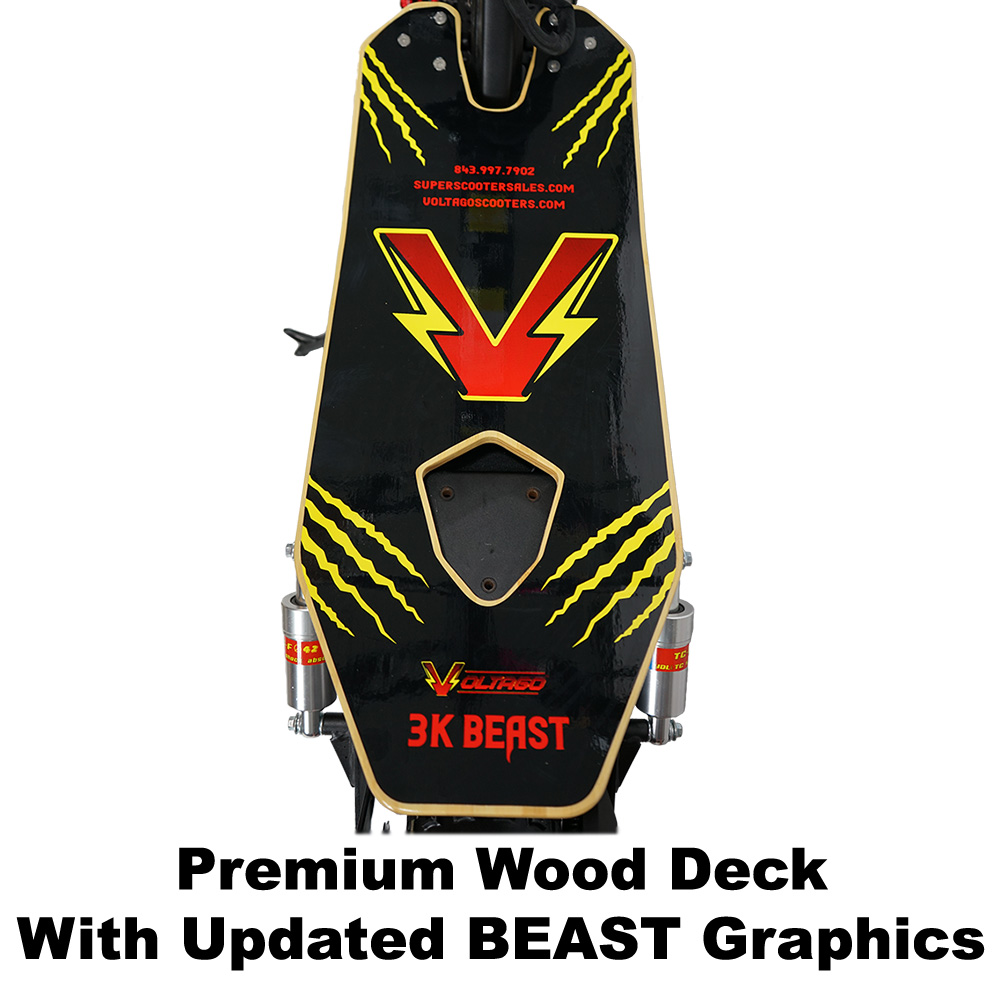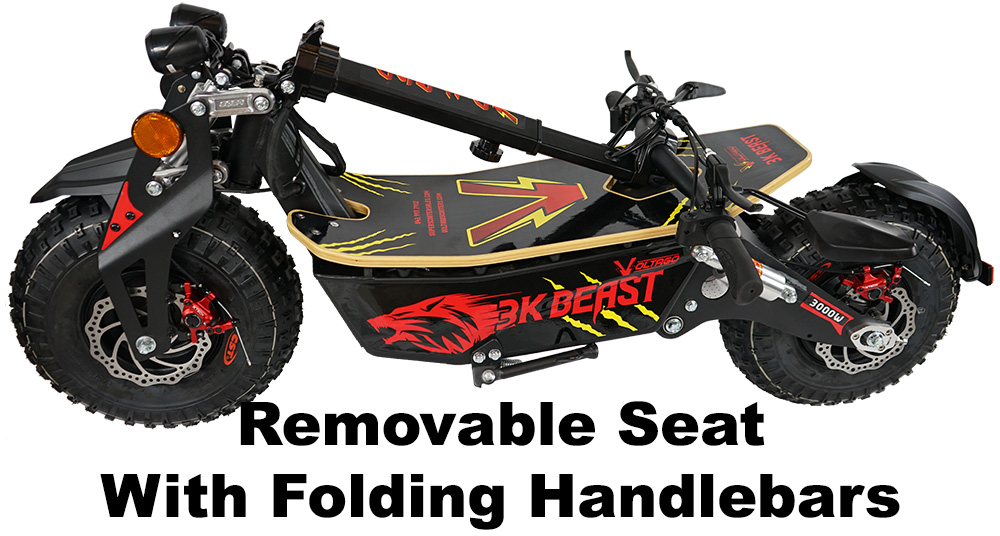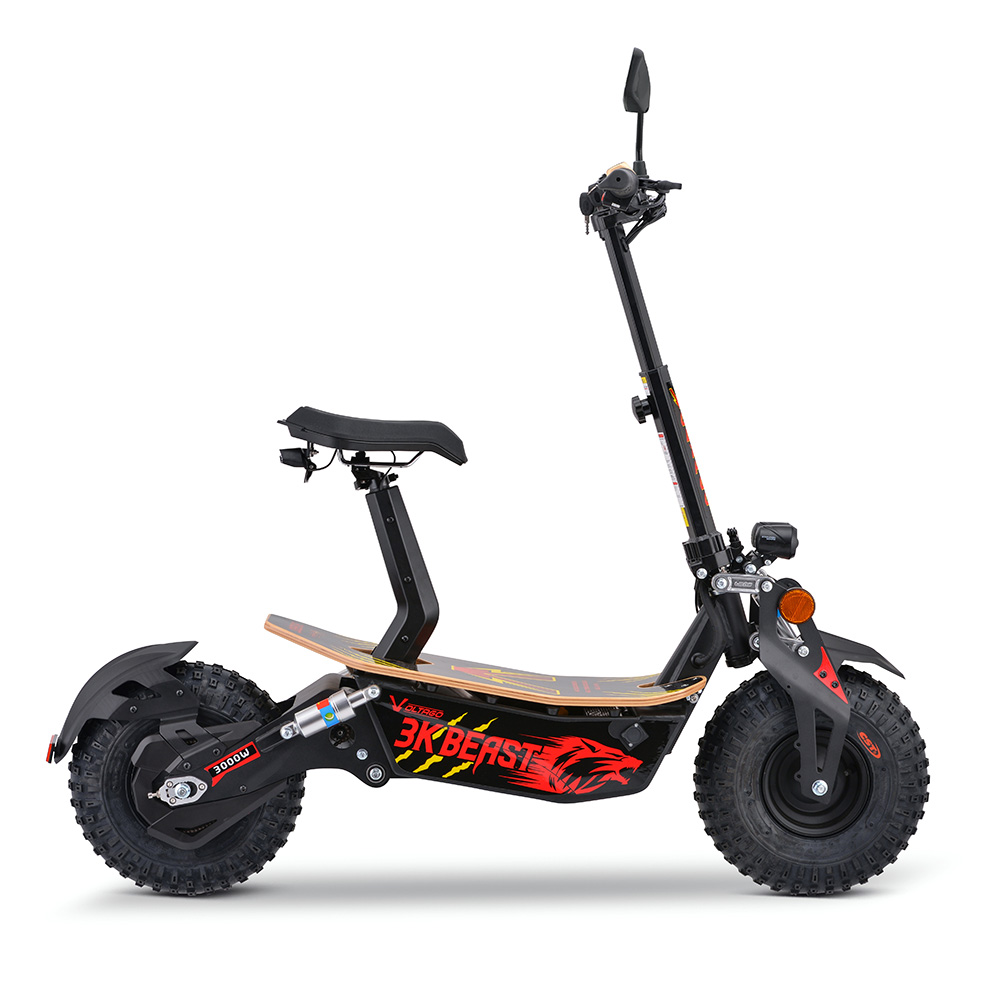 Voltago 3K Beast Specifications And Details
Recommend Age:

See Liability Policy

Motor:

60v 3000w Brushless High Performance Motor

Speed:

Speeds of 34-38 mph (Will vary based on the rider's weight and terrain)

Battery:

60v 20ah Lithium Battery

Battery Lifespan:

The batteries are rated for up to 650 charges. This will vary based on how it is taken care of.

Charger:

The scooter features a 60v smart charger with Charging/Charged status that plugs into a regular wall outlet.

Suspension:

Features Dual front shocks for an improved ride comfort along with dual rear shocks.

Headlight:

Has two front lights that features built in horns for improved safety.

Control Box:

60v 3000w Control box

Drive System:

Size 25h Durable Chain

Braking System:

Has Front and Rear Hydraulic Disc Brakes

Rims:

Heavy Duty Metal Rims

Tires:

145/70-6 CST Rugged all terrain tires

Handle Bars:

18in adjustable steering column

Deck:

Layered Wood Deck with Resin Finish on top

Frame:

Heavy duty Steel

Folding:

Collapsible Steering column

Net Weight out of Box:

124lbs

Net Weight in Box:

134lbs

Box size with Scooter (LxWxH):

56″ X 14″ x 25″

Weight with No Batteries:

84lbs

Maximum Weight Allowed:

Max rider weight is 350lbs when on flat ground. Please keep in mind the steeper the hills the lower the rider weight has to be.

Color:

Available in Black with Red Decals only
Scooter Measurements:
42″ Tall Fully put together
55″ Long
7″ Clearance from ground to bottom of frame
32″ Seat to ground
17″ Seat to deck
24″ tall when folded up
11 ½" Deck width
25″ Handle Bar width
28 ½" Deck to Handlebars
Available Accessories
More Accessories AVAILABLE than any other electric scooter company!
Accessories are optional upgrades to your scooter. You can add accessories to your order by clicking on the Add to cart button. Any accessory that is added to the cart and purchased while you purchase a scooter will automatically be installed free.
Please note all our scooters come with everything you need including a standard charger. The only exception is the hill kit which is a necessary upgrade if you have any hills. Everything that you see in the pictures with the scooter is already installed and included with it.
Shipping Details
All orders normally ship within two business days from the time the order was placed due to our inspection procedure of each scooter before they are shipped. Sometimes orders may take up to five days to ship out depending on how many orders we have gotten or the time of the year it is. Once you place the order you will receive an automated confirmation email to let you know the order has gone through. Once the order has finished processing, has been printed, and is awaiting quality control you will be sent another email with the tracking number. This does not however mean that the order has already shipped out, just that a label has been created for your order. Shipping time varies based upon which state you live in, states on the east coast tend to take around 2-3 business days for delivery once shipped. If you are on the west coast orders can take between 4-7 business days to be delivered once they are shipped out. Due to security reasons all orders must ship to the billing address on the credit card, please keep in mind we can't ship a scooter to a PO box. All scooter orders that are placed with a PO box as the shipping address will be canceled and refunded. The price of shipping is included in the cost of all scooter purchases; however, we can only ship the scooters to the 48 contiguous United States.
Trust in the Voltago Scooters Name
You can rest assured of your purchase as we only carry scooters that use some of the very best in quality parts. We have been in this field of business for 15 years since starting out in 2003 due to our high level of customer service, quality products, and affordable merchandise. However, as with all scooters, ours require maintenance and repairs from time to time which will vary based upon the actual usage of the scooter itself along with the conditions it is used in. If that isn't enough to convince you to shop with us the Voltago 3K Beast also comes with a 90-day warranty on all parts except the motor itself which is 1 year that covers any kind of manufacturer defects. For full information regarding the warranty please see the full
warranty page
.